Friendly, Open and Personal
We are a small but awesome ;-) coworking space in the heart of Freiburg's old centre.
Our almost 20 desks are distributed across beautiful 170 old-style square meters in 4-5 rooms. Each work station has a big proper desk and provides enough space, air and light for concentrated creativity and new ideas of all kinds.
(For more details on our facilities see the page on ours desks.)

Due to the limited number of members and relatively low turnover it's not hard to get to know everyone personally and establish direct relationships. For example, many of us go out for lunch together almost every day, which is usually quite fun, not only because of the enormous breadth of suitable lunch offerings in the direct vicinity of our office.

Overall the atmosphere in our space is friendly and open, even a bit like an office family. Many of us feel so at home they are coming in almost every day for years now and have made our office an important fix point of their lives in Freiburg.
---
---
History of our Office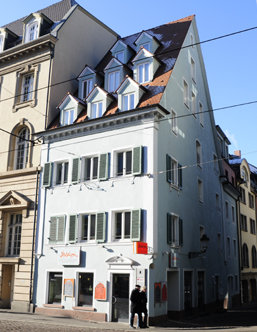 The origins of our office lie in the year 2010 when the move of our old company into Freiburg's city center confronted us with the realities of the local commercial property market. Most units were too large, too dark, too far away or didn't really appeal to us for other reasons. And: Most required a commitment of at least 3 or 5 years, too much for us who didn't know at the time how our main business was going to develop. What we actually needed was a nice small unit with lots of flexibility. Unfortunately, this combination didn't seem to then exist in Freiburg.

So we rented an office "An der Mehlwaage", which was actually too large for us, and founded "Coworking Freiburg" with the goal of providing others with what we had been looking for ourselves: Flexible desks in beautiful rooms and a top location, with good technical infrastructure and friendly people at a similar (or completely different) point in their lifes.
After some time the local press also became more and more interested in the subject of "coworking" and we were reported on at several occasions. For example in the "Badischen Zeitung" from June 11th 2013 or the online magazine fudder.de in January 2012.

When, in summer 2015, the opportunity arose to move into new, bigger and even more exclusive rooms just 100 meter further up the street, directly in the Martinstor, we didn't think twice. Now we could grow a bit more, finally had a proper conference room, a real kitchen, a great view and even an office shower... :)
---
Currently with us
A few of our current members:
---
Einige unserer Alumni
Over the years we had the privilege to host many different member companies and individuals.
This is a small selection: